Tickets now on sale!
Tickets to the Vision 2020 South Shore Conference for Women are LIVE! Purchase your ticket on the South Shore Conference for Women website.
October 22, 2020, 8AM – 1PM
Virtual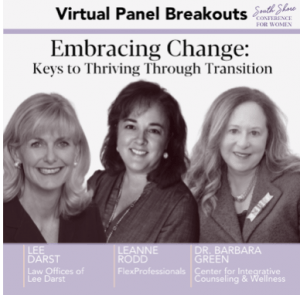 Panel: Lee Darst, Leanne Rodd and Dr. Barbara Green
Embracing Change – Keys to Thriving Through Transition – Life takes us through a series of transitions, both chosen and circumstantial.  Mindset can determine whether we thrive through the challenge or not. We will share key steps and strategies to help you develop navigation tools to achieve your wellness, legal and career goals.